September 6th
On this day in 1995 Cal Ripken Jr. broke the Major League Baseball record for most consecutive games played. Lou Gehrig had held the record for almost 50 years at 2,130 games. His streak ended when he retired because of the disease that bears his name. Ripken's streak is remarkable in that he played shortstop, a position that requires more athleticism than any position on the field, thus subject him to a higher likelihood of injury.
On this day in 1901 President William McKinley was shot by an anarchist in Buffalo, New York. He would die eight days later. McKinley was still conscious on the ground when the gunman was wrestled to the ground. He was heard telling his guards not to hurt his assailant. The anarchist, Leon Czolgosz, thought McKinley was at the head of a corrupt government and wanted him dead. He hid his gun under a cloth and made the president believe he wanted to shake hands, but shot him in the chest twice. Czolgosz was executed by electric chair on October 29th, of that year. In office as vice president for less than a year, Theodore Roosevelt became one of the countries youngest presidents.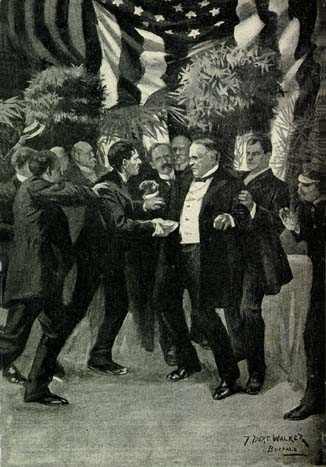 On this day in 1522 one of the five ships in Ferdinand Magellan's expedition to find a new western route to the far east arrived in Spain, completing the first circumnavigation of the world. Magellan was killed in the Philippines in April of that year and Basque navigator Juan Sebastian Elcano guided the
Vittoria
back to Spain with 17 other crew members. The voyage had departed nearly 3 years prior with 270 men.